This post may contain affiliate links. I may receive commissions for purchases made through links in this post. I will never recommend any products that I don't believe in. Please read my Disclosurefor more info.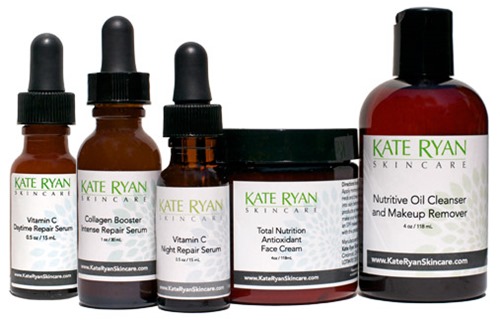 Kate Ryan skin care is quite possibly one of the BEST natural lines out there! Named after the creator's beautiful daughter, Kate Ryan, it is a budget friendly line that embraces cruelty free and ingredients of the highest quality. You will be thrilled to discover this gem. As a family business, they pride themselves in exceptional quality with potent ingredients that really make a difference in the appearance and health of your skin. Effective, beneficial, elegant, cruelty free, and affordable! I LOVE this line.
So, let me tell you I was more than thrilled when they sent me an amazing array of products to try including:
Salicylic Cleanser (commandeered by my beautiful daughter)
Nutritive Oil Cleanser (great for removing facial makeup at the end of the day)
Pumpkin Enzyme Peel (the answer to softer and more even skin)
Toner (wakes up your complexion)
Hyaluronic Acid Ultimate Hydration Serum (just as the name implies it gives your skin a boost of hydration)
Vitamin C Daytime and Nighttime Formulas (superb anti-aging and antioxidant properties)
Advanced Eye Therapy Complex (seriously lifts and tones the eye area)
Total Nutrition Antioxidant Face Cream (infuses the skin with pure nutrition)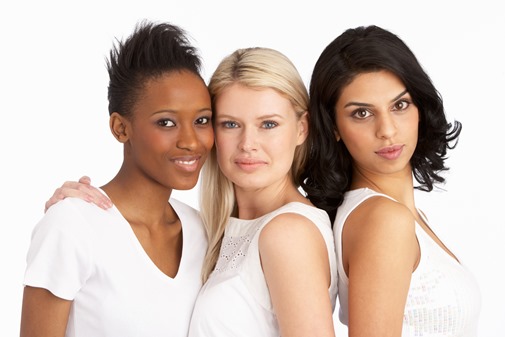 All of the Kate Ryan Skin Care products are loaded with incredibly healthy ingredients and work synergistically helping your skin look and feel gorgeously healthy! Let me tell you that after using these products for a few weeks (although I knew I was in love after just a few days,) I am hooked and would love to try the entire line. They are truly exceptional and you can really feel the love put into each and every product.
I honestly loved every product I tried, but as I continued to use them there were a few that rose to the top as my favorites;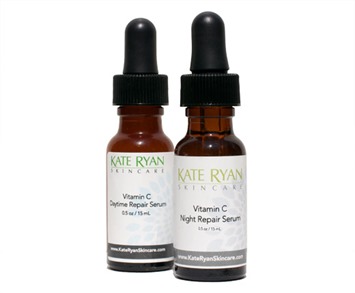 Vitamin C Daytime Serum
This beauty is one of the best vitamin C products I have ever used. It absorbs like magic; it glides over the skin and then vanishes just like that! This serum is feather lite but packs a punch with ingredients such as kelp, vitamin C, hyaluronic acid, niacinamide, DMAE, Alpha lipoic acid, green tea, pomegranate, and more.
Vitamin C Nighttime Serum
Once again this is another amazing vitamin C serum. It's a bit more moisturizing with the inclusion of squalane, olive fruit extract, rosehip seed oil, in addition to antioxidants and vitamin C. It slides beautifully over the skin infusing it with a healthy dose of nutrients.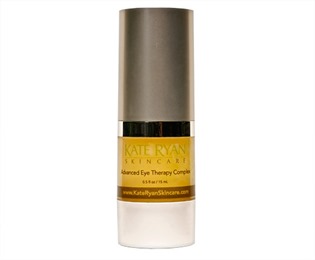 Advanced Eye Therapy Complex
Quite simply one of the best eye treatments I have experimented with, loaded with anti-aging and protective ingredients it really makes the eye area look refreshed, alive, smoother, and younger. One word comes to mind when describing this unique complex; phenomenal! I was shocked at how far one little drop of this treatment would to. Not only did it slip right under my eyes as well as the eye lids, but I could use that same little drop and spread it to other areas of my face.
It supplies your eyes with pure moisture and anti-aging properties from powerful ingredients such as jojoba seed oil, rosehip seed oil, sunflower oil, sea kelp, hyaluronic acid, vitamin E, natural peptides, niacinamide, coconut endosperm, and more! This superior complex works at night while you're sleeping to reduce lines and wrinkles, puffiness, and dark circles.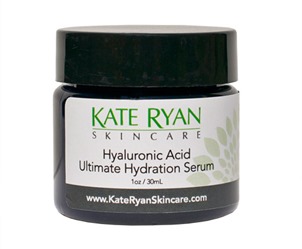 Hyaluronic Acid Ultimate Hydration Serum
Hyaluronic acid is an amazing ingredient as it attracts moisture to the skin which is vital for a youthful complexion. This serum is great as a nighttime treatment under the Vitamin C serum. It has a great slippery texture that spreads easily over the skin and helps other serums work more effectively and absorb more easily.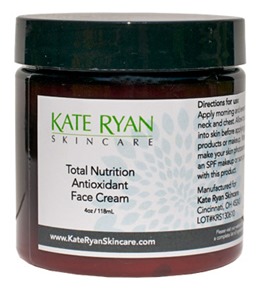 Total Nutrition Antioxidant Face Cream
This cream is loaded, and I mean loaded, with nutritious ingredients. It contains a form of vitamin A which can make your skin more sensitive to the sun so an SPF is highly recommended during the day, but I like to err on the side of caution and only use it at night. This luscious cream contains sesame seed oil, sweet almond oil, avocado seed oil, hydrolyzed collagen, sea kelp, pomegranate, lycopene, palmitoyl pentapeptides, and more! It is designed and crafted to help protect your skin, repair past damage, boost collagen production, and promote a smoother and healthier complexion.
Like I said, I really loved all the products but these were the ones that I really looked forward to using day in and day out. Not only do I know that I am doing something amazing for my skin, but they feel so good, so elegant, so luxurious, and so naturally gorgeous!!