PICO Toner Microcurrent Facial Device Offers a Non-Surgical Facelift at Home

Neurotris PICO Toner Microcurrent Facial & Body Sculptor!
I am a huge proponent of natural alternatives to looking younger and more vibrant without resorting to more risky measures. The Neurotris PICO Toner Microcurrent Facial and Body Sculptor is one incredibly powerful device that can be used in the spa or home yielding impressive results!
A Bit of History
The history of microcurrent technology goes all the way back to 1830! A physician at the time used microcurrents to treat wounds, broken bones, and soft tissue because of its unique ability to heal the body 250-350% faster than without microcurrent treatments.
Later, a physician found microcurrent technology to extremely beneficial for patients suffering with facial paralysis (Bell's Palsy) and discovered that the faces of the patients he was treating with microcurrents were smoother, younger looking, and more vibrant. As a result, microcurrent facials became integrated into the marvelous world of aesthetics.
In the 1960's, several doctors found that microcurrent technology at low frequencies has the power to re-educate muscles helping to lift and tone facial contours.
Now, fast forward to today and you will find microcurrent facial treatments available in most spas, skin clinics, dermatologist offices, and what I happened to be most grateful for; in the home!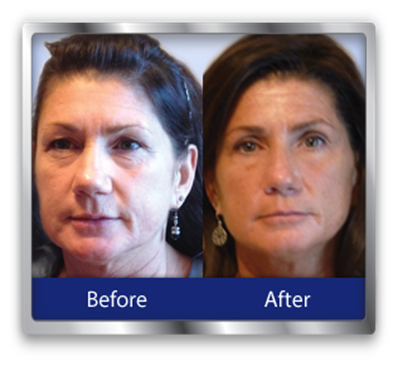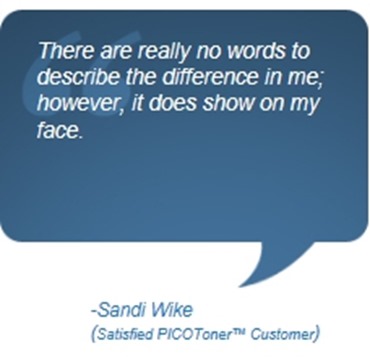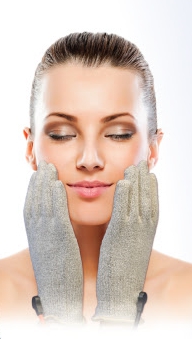 Benefits of the PICO Toner Microcurrent Facial Treatments
Re-educates muscles
Increases collagen and elastin synthesis
Increases mitochondria activity (cellular energy)
Increases blood and lymph circulation
Increases protein synthesis
Enhances the penetration of active skin care ingredients
Improves muscle tone
Tightens pores
Lifts facial contours; jowls, eye brows, jaw line, etc.
Reduces lines and wrinkles
Reduces cellulite
Can be used on the face, neck, décolleté, hands, legs, butt, stomach, thighs, arms, etc.
The Neurotris PICO Toner is a cutting edge microcurrent system that utilizes patented silver gloves. It's the world's most advanced face and body sculptor and is the only hand held microcurrent device designed for home use that features 2nd generation "constant waveform morphology."
With the PICO Toner you can treat your face and hands at the same time saving you a ton of time! You can also use this system on the body treating your décolleté, arms, stomach, butt, thighs, and more! It not only reduces lines and wrinkles and lifts sagging skin but it also helps reduce cellulite! This one system does it ALL!
The gloves make it incredibly simple to treat the entire face and/or body. Because of its impressive power and results this beautifully convenient device is used by aestheticians as well as in the home.
The PICO Toner has two 20 minute programs that automatically alternate between two preset signatures within each individual program.
Program 1 is designed for wrinkle reduction, toning, lifting, tightening, and more.
Program 2 is used to increase collagen and elastin synthesis, improving circulation, tightening pores, and more.
For optimal results it's recommended that you alternate between the two programs. One day treat your beautiful face with program one and then on the following day switch to program 2.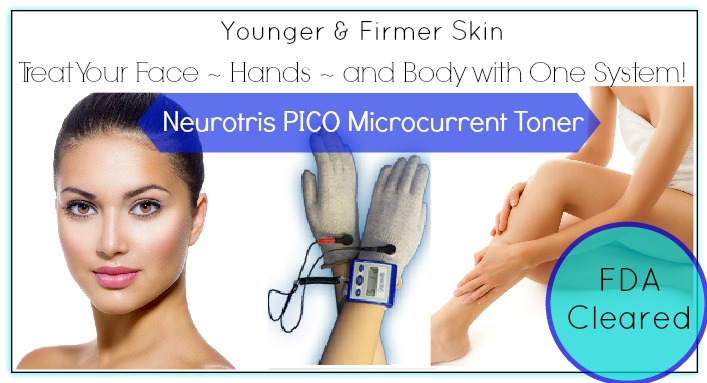 You don't need to worry about applying any expensive conductive gel to your skin and for even more flexibility the PICO Toner uses 1 single AAA battery so you can do the treatments anywhere! No pain, no downtime, no trip to the spa, and no redness; just gorgeous skin!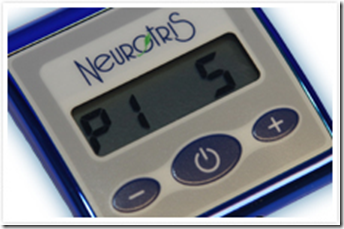 The Neurotris PICO Toner Microcurrent Facial and Body Sculpting System comes with;
The PICO Toner
Patented Silver Gloves
Glove cable
Battery
Wrist strap
100 glove inserts
Velvet travel bag
Owner's manual
Training DVD
1 year warranty
The results from the PICO Toner are nothing short of miraculous; skin that looks lifted, younger, smoother, and healthier all in the comfort of your own home! And best of all the dramatic results are cumulative.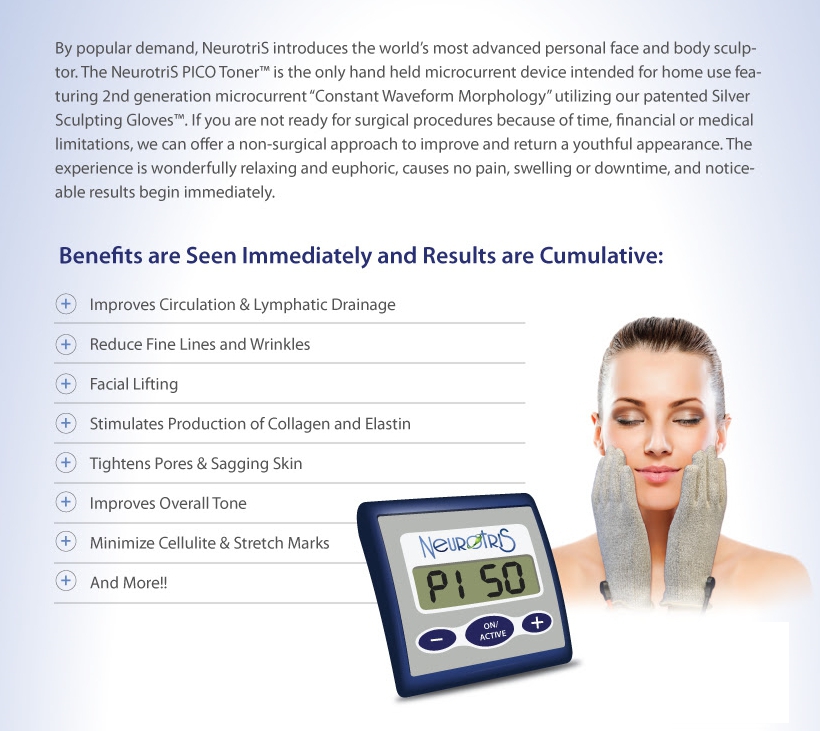 The PICO Toner is used by celebrities, in spas, and now you can also enjoy the relaxing treatments and impressive results for much less than you would pay for spa packages and much less than a daily cup of Starbuck's or Dazbog coffee

Get yours today and start looking younger and more rested ASAP!
Visit here to read what others have to say when comparing the Pico Toner to the NuFace!
Here's what one user had to say:
"Nuface is tomato juice, Pico is a Bloody Mary." 🙂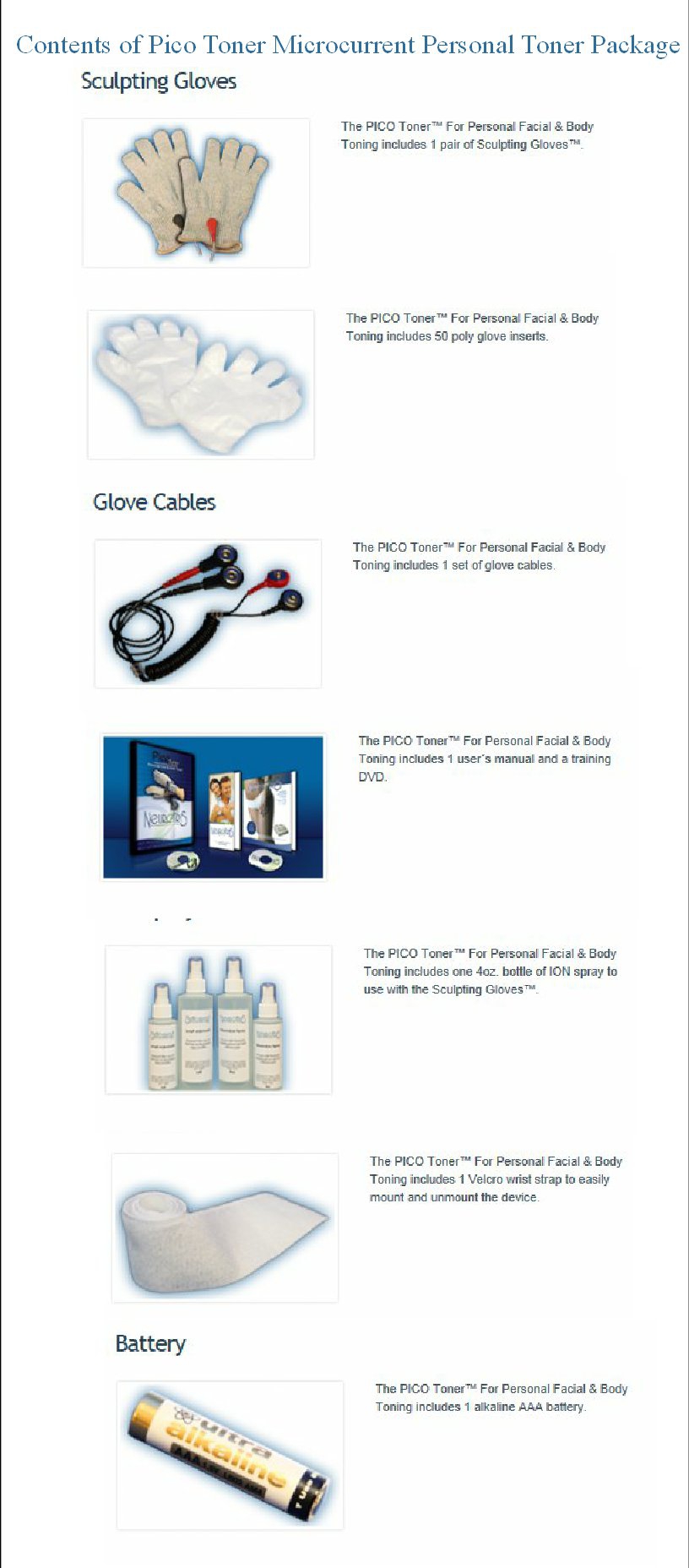 Great videos about the Neurotris PICO Toner and Microcurrent in general!
Neurotris PICO Toner Microcurrent Facial and Body Sculptor – Entire System!
Frequently Asked Questions:
How long do the gloves last?
Clients can get up to 3 years or more on the gloves with proper care.
How long will a bottle of spray last?
I use 10 to 15 squirts on each glove so with regular use one 8oz bottle can last 2 to 4 months
Do you discard the liner gloves after each use or do they last longer?
A bag of 100 liners comes with the box. You can reuse if you choose.
Are there videos on how to use the Toner?
A complete training DVD comes with the PICO Toner.
What is the return policy on the PICO Toner?
The PICO Toner is FDA cleared and the FDA will not allow resell of this item do to hygienic requirements, therefore it cannot be returned.
Is there a warranty?
Yes, there is a 1 year warranty.