The Caribbean Sun CCOL Light Seriously Fights Aging

Red / Yellow Light Therapy Dramatically Rejuvenates Your Skin
The Caribbean Sun Skin Rejuvenation Light (CCOL) Offers Both

 
 You are going to LOVE what this powerful system does for your skin! Your skin will take on a gorgeous glow after 1 use and the results are cumulative meaning they will get better and better! Your skin will look younger, more vibrant, clearer, luminous, and healthier.
"With the Caribbean Sun, I have noticed that my face is smoother and the dry patches have disappeared. The texture overall looks better. It also helps with the inflammation of my blemishes and they seem to go away much faster now that I am using the light." – Amy K. CO USA
"I really enjoy the red light therapy and I love the way it feels. I was away so have only been using it for approx. 10 days. Yesterday one friend told me I looked younger, how great is that!" -Roberta, Canada
"I have seen such amazing results with my Caribbean Sun light! My skin looks bright, youthful, and healthier. I look years younger! It's my little secret against aging and all of my friends keep asking what I have been doing to my skin. I've never had that happen before and I am so excited!" Elizabeth C. CO USA
LED light therapy is a very powerful treatment for skin rejuvenation, acne, rosacea, eczema, and more. There are a number of different colors that target specific conditions. Red and blue light therapies are better known and very popular because they are so effective. Yellow light therapy is quickly making its presence known in the skin care industry, especially when it comes to anti-aging, rosacea and eczema. But, what are the differences between these different LEDs?
Red light therapy is great for skin rejuvenation due to the fact that it stimulates collagen production, cellular renewal, and increases the energy within your cells. These functions create a powerful anti-aging effect on the appearance of your skin.
Yellow light LEDs are effective at treating burns (including sunburns), reducing redness and swelling, stimulating collagen and elastin, as well as treating other inflammatory conditions such as rosacea and eczema. Yellow LEDs, when combined with red LEDs, reach optimal depths where they seriously rejuvenate the skin promoting a more youthful and glowing complexion.  This technology is becoming widespread in spas due to its effectiveness in making the skin more beautiful.
The Caribbean Sun Skin Rejuvenation light is a professional grade, solidly built unit that combines 144 yellow LEDs and 144 red LEDs which can be used together at the same time or used independently depending on your skin and its needs. It's a completely hands-free unit making it incredibly easy and convenient to use.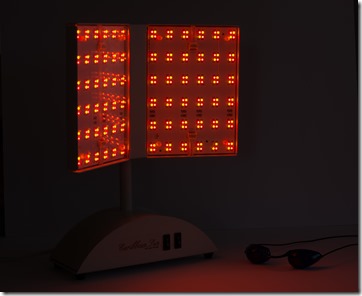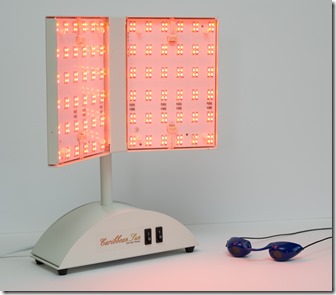 The above photos show both the red and yellow LEDs on at the same time.
The above photos show the Caribbean Sun Skin Rejuvenation Light (CCOL) with just the yellow LEDs on.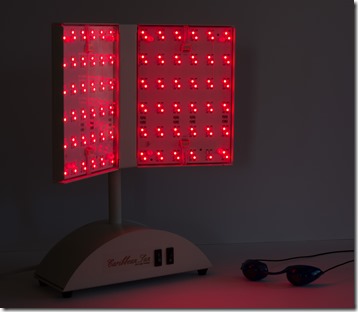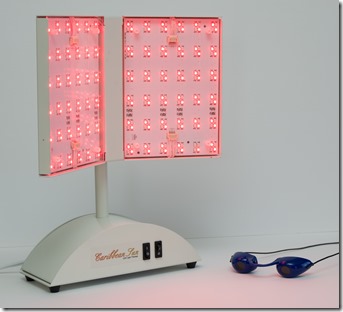 The above photos show the Caribbean Sun Light with only the red LEDs on.
Benefits of the Caribbean Sun Skin Rejuvenation Yellow/Red Light
Diminishes the symptoms of rosacea

Minimizes the appearance of fine lines, wrinkles, and crow's feet

Reduces pore size

Improves skin tone and texture

Stimulates collagen and elastin production

Repairs sun-damaged skin

Increases circulation

Increases moisture content within the skin

Reduces skin degradation

Diminishes redness and flushing

Reduces scarring

Minimizes dry patches, itching and sensitivity related to eczema

Non-invasive

Simple to use

10 Year Warranty!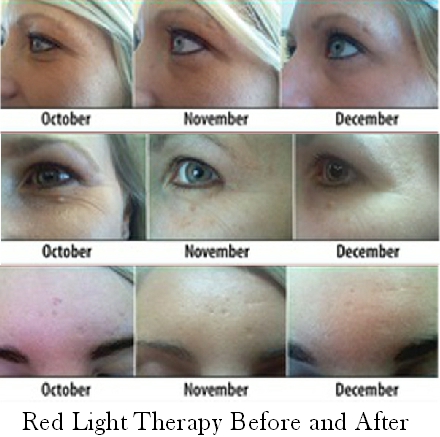 Yellow light therapy is being recognized as a great alternative treatment for rosacea and eczema.  Dr. David J. Goldberg, MD has reported that "The evidence seems to suggest the vessels get smaller after 'yellow light' treatment. The beauty of all LED is how safe they are. They can be used in all skin types." He goes on to say "Basic rule is yellow LED for mild redness, red LED for more inflamed rosacea, combination of red and near-infrared for inflammation and swelling."  The Caribbean Sun Skin Rejuvenation Light has both red and yellow LEDs and they can be used at the same time or individually depending on your needs.
The Caribbean Sun CCOL (skin rejuvenation light) offers amazing results!  After using the light my skin glows with vitality, looks more refreshed, and looks rejuvenated.  Over time wrinkles soften, pores look smaller, and skin tone evens out.  I really like the fact that I can use both the red and yellow LEDs at the same time or I can mix it up and do one at a time.  I am in complete control of my treatments!  This unit is extremely professional and comes with goggles for those of you who are more sensitive to light.  Your skin will look more beautiful at the flick of a switch; it doesn't get much easier than that!
Great for sunburns
The Caribbean Sun CCOL is also fantastic for sunburned skin.  I know that on the slight occasion sunburns can occur and this unit helps to soothe the skin while reducing redness and inflammation.  In fact my son loves this light when he neglects to put on sunscreen and gets too much sun while camping or when he is out mowing lawns.   It's easy to use, safe, and effective at treating a multitude of conditions.
Amazing for rejuvenating the skin, reducing lines and wrinkles, and fading age spots!
I can't even begin to tell you what an undiscovered secret the Caribbean Sun Skin Rejuvenation Light is for de-aging the skin. It has to be one of my all time favorite anti-aging devices! I love what this system does for my skin. When I use this unit my skin looks so healthy and takes on an incredible glow. It has diminished lines and wrinkles, crow's feet, and a few stubborn age spots I had lingering 0n my cheeks. I treat my skin 5-6 times a week for 20-25 minutes. It is so easy to use, doesn't take long, and does an incredible job of improving the skin!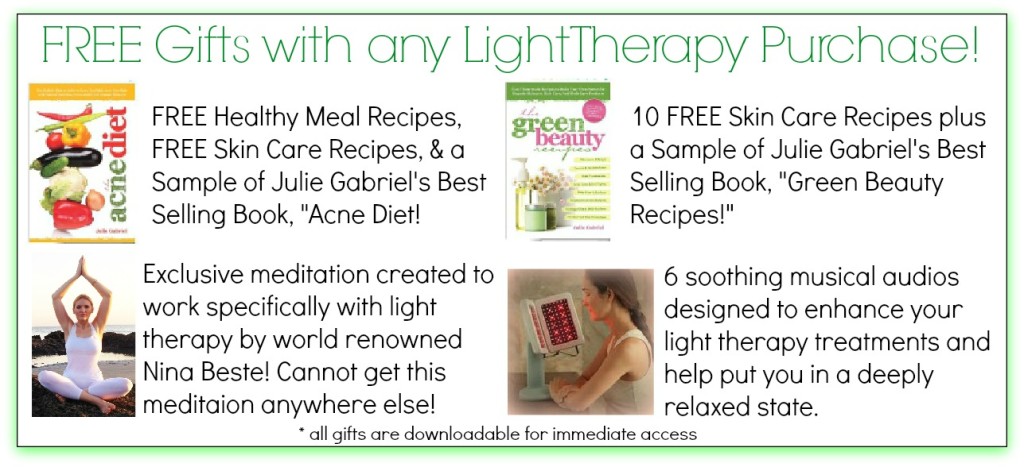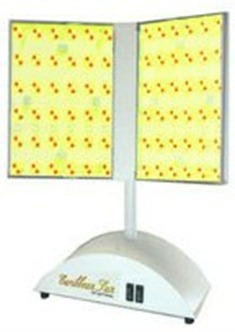 Regularly $424 Now just $345 plus free shipping in the U.S.
FDA Cleared as a Class II Medical Device
10 Year Warranty
Free Shipping in Continental USA
No Sales Tax
Free Gifts

Free S&H in USA in lower 48 states (excluding Alaska & Hawaii $45 S&H is added to discount price)
We ship worldwide! International S&H fee of $95 is added, please contact victoria@revealgreatskin.com with any questions
* gifts are downloadable
Frequently Asked Questions About Red Light Therapy
How long until I will see results?
It will vary from individual to individual but most people feel and see results with red light therapy in about 4 or 5  treatments. Treatments are progressive so the results will continue to get better and better.
Does red light therapy work on most people?
Yes, this red light therapy system has been proven to work on all skin types.
Can red light therapy hurt my eyes?
No studies have been found showing any harmful effects to the eyes when used correctly. However, it is recommended that you close your eyes and do not stare directly into the LED's.
Can I combine red light therapy with other skin care?
It is recommended that you do the treatments on clean skin or a serum designed to work with the LEDs. Some ingredients are sensitive to light and can have a reaction. After your treatment you can use your favorite skin care as desired.
Will red light therapy hurt?
No, unlike lasers or other ablative (skin damaging) treatments, red light therapy is non-invasive and non-ablative. The lights on these red light therapy systems gently warm the skin but do not get hot. There is absolutely no pain and no down time.
How do I clean the unit?
Unplug your red light therapy unit before cleaning and don't submerse the unit in liquid (this will void your warranty.) Use rubbing alcohol on a paper towel or soft rag and gently clean the surface.
Is there a warranty?
The Caribbean Sun lights come with a 10 year warranty.
Medical Precautions for Red Light Therapy
If you have been diagnosed or suspect thyroid problems do not use the red light therapy unit over the thyroid gland (neck area.)
Do not use red light therapy if you are taking medication that may cause photosensitivity reactions.
1. Consult your doctor prior to using, especially if you:
a. are pregnant,
b. are taking drugs known to cause sensitivity of skin to light,
c. have any suspicious or cancerous lesions,
and/or
d. recently had a steroid injection or use topical steroids.
2. Individuals using aspirin, ibuprofen and other similar drugs for pain or individuals with skin conditions may experience a mild "flare up" of their symptoms and should stop DPL™ therapy.
3. Read all instructions and safety precautions before using the system.
4. Do not use on infants.
5. If you experience discomfort or have a concern about its use, stop use immediately
and contact your doctor.
6.  Thyroid:
The light works under the skins surface and will increase circulation.
For those that have a "slow" thyroid the use of the light will stimulate and increase circulation… which is actually what you are trying to accomplish.  For those with a slow thyroid the light may actually help.
For those that have a "fast" thyroid and may be on medication to slow it down you will want to avoid using the light on the nape of neck and cover that area with a thick (rolled) towel.  Or avoid that area completely.
7.   For anyone concerned using the light due to medical conditions we will always recommend that you consult with your physician as they will have access to all your medical issues and conditions.
International orders are responsible for shipping and handling charges.
Owner and heirs of RevealGreatSkin.com are not responsible for any liability in connection with the use, or improper use of the LED system.
What is the return or cancellation policy?
45-Day money-back guarantee Terms on all Returns: Save your invoice. All returns must be issued an RMA# within 45 days of purchase and the unit must be received within 10 days of RMA# issue. Without an RMA # your return cannot be accepted. To be issued an RMA#, you acknowledge the terms noted herein. All items must be included in box and in new condition. RETURNED  LED's will be charged a 25% restocking fee.   Return shipping is your responsibility and is non-refundable. Unit must be received within 10 days of issuing the RMA#. Please email info@revealgreatskin.com include your  full name, country and date of purchase in your email and we will forward return  instructions.
"Open Box Units":  On the rare occasion that we receive a returned "open box" unit in new condition containing all original package contents we will offer it at a huge discount.   These units cannot be returned.  Please email info@revealgreatskin.com
if you are interested in being put on a wait list.
Cancellations: All orders are automatically processed through our secure merchant processor which incurs fees. If you cancel your order BEFORE it has been shipped, you will be assessed a small cancellation fee of $5.00 before credit is issued. We are very sorry, but we cannot accept cancellations if your order has already been shipped. Orders which are refused at delivery will NOT be credited. S & H and freight delivery costs are non-refundable. We are sorry but there are no exceptions.
Bulk orders of 2 or more of the same unit cannot be returned.