This post may contain affiliate links. I may receive commissions for purchases made through links in this post. I will never recommend any products that I don't believe in. Please read my Disclosurefor more info.
Anti Aging Face Cream, Ilike Glycolic Medlar Rejuvenating Treatment Takes Off Years!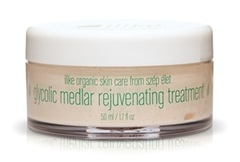 An anti aging face cream that can be used morning and night, the Ilike Glycolic Medlar Rejuvenating Treatment revives the skin giving you a radiant complexion.  It contains glycolic acid which resurfaces and renews your skin.
This anti aging face cream promotes healthier more youthful skin with an impressive list of ingredients.  Your skin is infused with nutrients that transform the appearance of your skin.  By thoroughly exfoliating the skin and nourishing it simultaneously, Ilike Glycolic Medlar Rejuvenating Treatment dramatically fights the signs of aging.
Benefits
Diminishes wrinkles
Exfoliates
Nourishes
Hydrates
Loads the skin with vitamins
Protects your skin cells from free radical damage
Promotes younger looking skin
Encourages healthy skin functions
Stimulates collagen production
Key ingredients:
Glycolic acid gently exfoliates and resurfaces your skin revealing a smoother surface.  It renews your skin and reduces wrinkles in the process.
Apple deeply nourishes and strengthens your skin.
Vitamin E moisturizes and protects the skin from environmental damage.
Vitamin C stimulates collagen production, reduces wrinkles, and fights free radicals.  It is also known to give the skin a beautiful glow.
Full list of ingredients:
Medlar (Naseberry), Glycolic Acid, Apple, Grape, Castor Oil, Lemon Oil, Bioflavonoids, Sorbite, Fructose, fruit Acids, Pectin, Vitamin C and E, Mineral Salts, Trace Elements
This anti aging face cream is certified organic, all natural, and paraben free.  It gently transforms your skin into a smoother, more radiant, and younger complexion.  It can be used as a day cream, a night cream, or both and should be applied as a final step.  However, if you use it as a day cream apply a sunscreen over it.
Ilike Glycolic Medlar Rejuvenating Treatment 1.7oz
Free Shipping
$68.00