This post may contain affiliate links. I may receive commissions for purchases made through links in this post. I will never recommend any products that I don't believe in. Please read my Disclosurefor more info.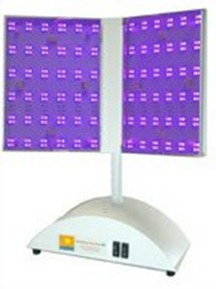 The Caribbean Sun Red/Blue Pro Light incorporates red light therapy with blue light therapy into one acne killing machine.  The combination of red and blue LEDs offers a gentle yet exceptionally powerful means for treating mild to moderate acne and this unit is extremely easy to use.   You just don a pair of goggles, turn on the lights, and relax in front of the lights.
Blue LED lights at 415 nanometers (nm) have the ability to permeate into the skin and kill the acne causing bacteria, P. acnes.  These powerful wavelengths also regulate sebum production helping to prevent further breakouts.   Blue light therapy has been proven to effectively treat acne and is used in spas and doctor's offices all over the world.
The red LEDs accelerate the healing process deep within the skin and tissue shrinking the duration of the breakout time.  Red LEDs have reparative, regenerative, and rejuvenating properties that help repair past damage, diminish scarring, and promote healthier skin functions.  The combination of the red and blue LEDs prevents and fights existing acne.
The Caribbean Sun Red/Blue Pro light has two 5"x7" panels that contain 144 blue (414nm) LEDs and 144 red (660nm) LEDs.  It's a hands-free, drug-free, safe, and effective option for treating an incredibly frustrating condition.
Benefits:
Kills acne bacteria
Regulates sebum production
Accelerates healing
Diminishes scarring
Rejuvenates
Promotes a healthier complexion
Blue light therapy can potentially damage your eyes, so it's necessary for you to wear goggles during the treatments.  Protective goggles are provided with the Caribbean sun Light.