This post may contain affiliate links. I may receive commissions for purchases made through links in this post. I will never recommend any products that I don't believe in. Please read my Disclosurefor more info.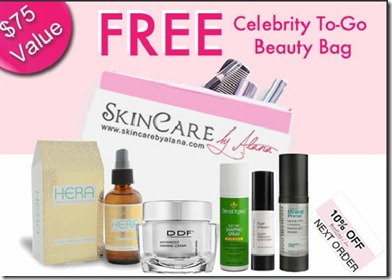 This celebrity to-go bag is one of the coolest, make you drool, free gifts I've seen in a long time.  It's packed with AMAZING products and is yours for FREE with any $100 purchase.  (It's a limited supply, so I would jump on it ASAP.)  Use code "togobag" at checkout.
The bag and all of its incredible contents are valued at $75 and contain some of the hottest products out there.  If you have been putting off picking up your favorite beauty products, go get them right now at SkinCarebyAlana  and treat yourself to this exceptional celebrity to-go bag.
Just look at all the fantastic items you will get with this free gift:
•    Dermaquest Hera Argan Oil For Hair & Skin
•    DDF Skincare Advanced Firming Concentrate
•    La Bella Donna Co-Exist Gel Crème
•    Youngblood Mineral Primer
•    Youngblood Eye Impact Quick Recovery Eye Cream
•    DermOrganic Fast Dry Shaping Spray
•    Eminence Organics Stone Crop Whip Moisturizer
•    Epicuren Relief Arnica Cream
According to Alana "These products have been tried and trued by skincare experts and celebrities world-wide such as Megan Fox, Katherine Heigl, Kristen Bell, Jessica Biel and many others!"
You get all these celebrity favorites along with the limited edition SkinCare By Alana carry-all only while supplies last!  Remember just use code: togobag at checkout.