This post may contain affiliate links. I may receive commissions for purchases made through links in this post. I will never recommend any products that I don't believe in. Please read my Disclosurefor more info.
Steam facials with essential oils offer a deep clean that opens up your pores and increases the circulation to your skin encouraging a healthy glow.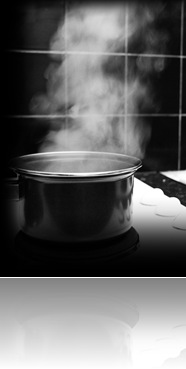 The steam increases perspiration, opens the pores to eliminate wastes and toxins, softens and loosens dead skin cells, and hydrates the skin.  Steam facials should be performed once a week to reap the rewards of this deep cleansing experience.
Steam Facial Steps
You will need:
A bowl of boiling water
An essential oil that works for your skin type (see below)
A large towel
A timer
A light moisturizer
1. Prepare your bowl of boiling water, making sure that you have a large towel next to the bowl.
2. Add 5-10 drops of the essential oil of your choice.
3. Set your timer for 5 minutes and hold your face above the bowl of hot water with the towel placed over your head.
4. Keep your eyes closed but be careful not to get too close to the hot water.  If the vapor from the essential oil is too strong then lift your head a few inches higher until the vapor becomes less powerful.
5. After steaming your face for 5 minutes gently pat your face dry and allow it to cool.  Apply a light moisturizer to seal in the hydration.
Essential Oils for Specific Skin Types
Normal Skin
German chamomile
Rose otto
Rose absolute
Neroli
Lavender geranium
Palmarosa
Rosewood
Dry Skin
German chamomile
Roman chamomile
Rose otto rose absolute
Geranium
Lavender
Neroli
Jasmine
Sandalwood
Sensitive Skin
Rose otto
Rose absolute
Melissa
Neroli
Immortelle
German chamomile
Roman chamomile
Mature Skin
Carrot seed
Frankincense
Sandalwood
Myrrh
Patchouli
Rose oto
Rose absolute
Roman chamomile
German chamomile
Palmarosa
Oily and Combination Skin
Geranium
Lavender
Cedarwood
Palmarosa
Niaouli
Juniper berry
Tea tree
Ylang ylang
Cypress
Grapefruit
Bergamot
Myrtle
You can find an unbeatable selection of essential oils at MountainRoseHerbs.com