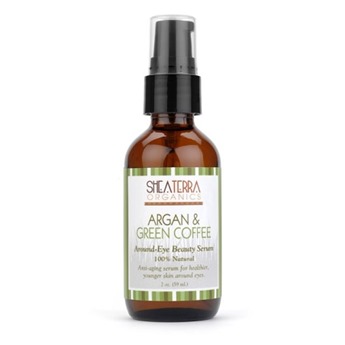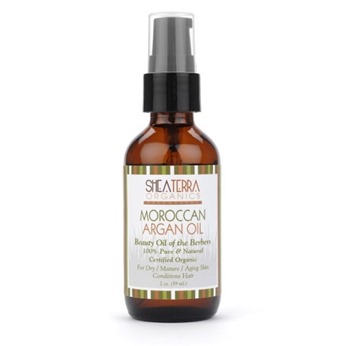 Shea Terra Organics is a beautifully natural line filled with potent and wild harvested products gathered to make your skin irresistibly gorgeous! This line includes amazing combinations of pure oils as well as 100% single oils. I had the pleasure of trying two of their amazing products; 100% Organic Moroccan Argan Oil and Argan and Green Coffee Eye Serum.
As a huge proponent of argan oil I am always on the lookout for pure, high quality, and exceptional products. There really is a difference between real high quality oils versus cheaper and often not pure oils. I have definitely tried a few that were low quality and did not produce results just as I have tried some amazing lines and my skin always reveals the losers from the winners.
Shea Terra Organics uses only the highest quality, undiluted and pure argan oil produced by hand in Morocco. The pureness of this oil drenches your skin in anti-aging and deeply nourishing properties that repair, hydrate, feed, and renew your complexion.
Shea Terra then takes this exquisite argan oil and combines it with other proven oils and herbs such as the Argan and Green Coffee Eye Serum.
The ingredients in this unique eye serum work together to fight aging around the eyes and also help to improve circulation, reducing puffiness and dark circles. It's packaged in a huge 2 oz. bottle and can be used for the entire face. I can attest that a little goes a very long way and the incredible size will last you a long time.
I found both products to be extremely effective. They both glide over the skin infusing it with luscious vitamins, nutrients, antioxidants, and moisturizers. My skin drinks in their nourishment and responds by exuding a beautiful glow. I love these natural oils, what they do for my skin, the fact that they are so pure, and that there isn't a harmful ingredient to be found.
If you're not accustomed to using natural oils, I would recommend using them at night and stick to your regular creams and lotions during the day. You will wake up looking refreshed and renewed. If you want to use them during the day then just use a bit less so it can fully absorb into the skin before applying your makeup; a little bit really does go a very long way.
Using products like these offer incredible peace of mind, knowing that they are 100% pure, natural, and organic. Nothing hidden and nothing harmful; just beautifully rich ingredients harvested from nature herself.