If you are someone who loves, and/or, uses natural skincare products, you have to try Annmarie Skincare!! The Annmarie Skincare line is a beautifully unique all natural, wildcrafted skincare line that offers result driven yet natural skincare products.  I can honestly say that I absolutely LOVE this amazing skincare line. Her products are so pure and so effective!
Some of my favorites so far (although I think the entire line is remarkable) are the Repair Serum, the Anti-Aging Serum, the Herbal Facial Oil, the Dead Sea Facial Scrub, and the Citrus Mint Facial Cleanser.. I know, I know… it sounds like I've listed just about every product imaginable, but each product truly is AMAZING!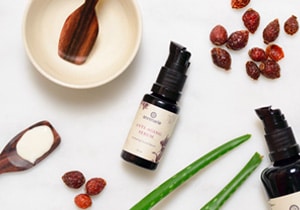 They feel fantastic on the skin and the smell of each product is nature at its finest. Imagine relaxing in a gorgeous field as you are surrounded by fresh flowers and herbs; that's the experience each time you use one of these products and release its tantalizing aroma. My skin loves them as well; it just drinks them in allowing each efficacious ingredient to deeply nourish the cells. I really don't think, no scratch that! I know you can't go wrong with any of the Annmarie Skincare products!
Each time I use one of her amazing products, my senses come alive and heave a big sigh, ahhhhh, as the indescribable aroma floats through the air and the unique texture infuses my skin with rich nutrients. You just know that you are giving your skin a healthy dose of vitamins, minerals, and antioxidants that will help your complexion look more beautiful.
The serums have a light consistency that rapidly soaks into the skin and the herbal oils absorb into the skin better than many of the oils I have tried. You can layer the serums and oils without that uncomfortable thick and heavy feel that many products can leave. Your skin feels like it has been nourished with elements from nature; Oh, I guess it has

This is a line that you will actually use the entire bottle! It's pretty rare when I can say that, but with this line I can, and I have to admit I feel great knowing that I have found a line I can believe in!
Click here to try a sample of this award-winning, natural skin care line.  You won't be sorry! After you've tried some of her products let me know what you think! I would love to hear about your experience!